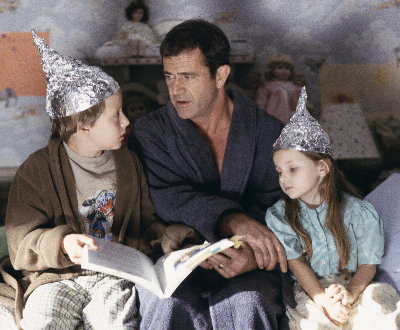 In this Monday's New York Times, there was a remarkable piece on the fifteen year anniversary of Fox News by Brian Stelter. The article starred Mr. America himself, Sean Hannity. Stelter managed to objectively slice into the body of the cable station with precision, opening up it's chest to present the cold blooded mechanics.
One has to marvel at the beast. Roger Ailes has succeeded in creating a propaganda machine so sleek, so efficient, that it has taken the masses nearly two decades to realize their country has been thoroughly intellectually corrupted. 
Centuries from now, we will be identified as the society brought down by misinformation delivered by an army of hot chicks. The comedy of it howls loudly, though not loudly enough to distract from the cost. The cost of this intended-confusion has been American Lives and American Life. We can only hope to restore the latter.
Stelter notes "Mr. Ailes and Mr. Hannity share many of the same conservative core values, like a belief in American exceptionalism and an aggressive counterterrorism stance. Both have written off Mr. Obama as a socialist." 
Indeed, Mr. Hannity glows with a sort of "Leave it to Beaver" purity. American politics for him is a game of Cops and Robbers, where rule of law need not apply when it comes to the "bad guys" and questions of morality are for those other people. I think of a statement made by Camille Paglia in 2003 at Salon:
"it's distressing to me as a teacher to listen to Hannity. Even though he went to college, his world is amazingly simple — as if he learned the absolute truths of the universe from Catholic catechism. He seems to be blissfully unaware of his automatic and sometimes servile deference to male authority. Of course he's emotionally pro-Bush and pro-war in Iraq: the Bush administration has made no mistakes and never stretched a fact. Anyone who questions Bush is a traitor who is undermining our troops. Liberals hate America. And America is always right, especially when it selflessly brings the joys of freedom to the down-trodden serfs of the world. Hannity seems to have had absolutely no experience of any country or people beyond our borders. For him, America is a blessed, sunny islet in a dark sea of oppression and ignorance. It's frightening because Hannity has such mental and verbal energy. What we're hearing from him, I'm afraid, is the future of America. His view is persuasive because it's so simple: The world has become too complex for people to take in. 
When I listen to Hannity, which I do a lot, I feel like I'm being swept back to the rigid, conformist 1950s of my youth… 

As a culture critic and intellectual, I am in despair about the immediate future of American thought. The window has closed, and we are in Sean Hannity's America, where everything is so elementary and so crystal clear." 
Which brings me to Occupy Wall Street. 
Much of Mr. Hannity's very identity is hinged on the belief that this country is exceptional. So I ask him, as I have previously asked Rick Santorum, what is it you believe makes America exceptional?
Certainly, you do not believe it is our Constitution. If you did, you would respect our Freedom of Assembly. Mr. Hannity has shrugged this off, instead smearing a protester on his radio show with the claim "you don't believe in liberty, you don't believe in freedom."
Freedom, it seems, only matters to Mr. Hannity as it applies to him and those like him. Fox News has pushed our First Amendment to the brink, yet the cries from those who deem their practices amoral and destructive have barely broken into our mainstream discourse. 
Those demonstrating at Occupy Wall Street are utilizing their basic civil liberties. The right to peaceably assemble is a fundamental one. Without it, we are not the United States of America. 
I affirm Sean Hannity does not believe in America's exceptionalism, he merely believes in the exceptionalism of Americans. Well, not all Americans… Just him and those like him. Therefore, those great gifts granted to us by the Constitution are really just for Mr. Hannity and his friends to play with. 
If Occupy Wall Street is an unpatriotic threat to freedom, we are not free at all. Sean Hannity and Roger Ailes cannot truly believe in American exceptionalism because they do not seem to understand why we warrant the designation.